Donate to Flushing Out Cancer 2019
SKU
flushing-out-cancer-donations
Please note that we charge $1 per transaction for processing fees. Thanks!
Need a different donation amount? Call us to donate via phone at 269-925-1111.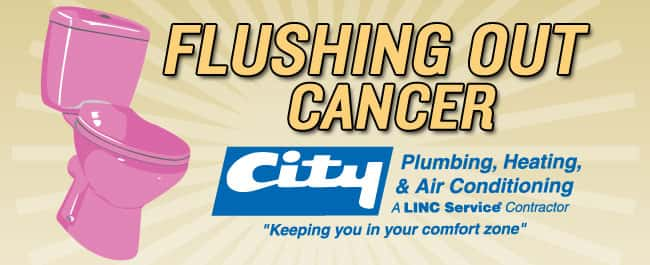 CITY PLUMBING, HEATING AND AIR CONDITIONING AND 98.3 THE COAST ARE GEARING UP FOR OUR FIFTH ANNUAL FLUSHING OUT CANCER!
FRIDAY, OCTOBER 11TH, 6AM-6PM
HERE'S HOW YOU CAN HELP ... EACH DIGNITARY WILL SIT ON THE PINK TOILET FOR A ONE HOUR SHIFT. THEY CAN'T LEAVE THE PINK TOILET UNTIL THEY RAISE AT LEAST A COUPLE HUNDRED BUCKS IN DONATIONS!
WE'LL HAVE DIGNITARIES ON TWO PINK TOILETS TO HELP US RAISE MORE!
JUST STOP BY AND DONATE TO HELP GET YOUR FAVORITE PEOPLE OFF THE PINK TOILET! ALL DOLLARS RAISED GO TO BERRIEN COUNTY CANCER SERVICES!
Frequently Bought Together
Customers Who Bought This Item Also Bought